Fall is filled with color, and I love how nature inspires my jewelry designs during this season. About a month ago I went through my entire staff and turned everything that was copper, brass, earthy brown hues, reds, and magenta onto my workspace all with the end goal of making fall necklaces, bracelets, and earrings. What was left was an overwhelming array of color, inspiration, and elements that I've been slowly putting into cohesive jewelry designs since.
I want to share four of my favorite fall necklace designs, both new and old, perfect for the fall season but also ideal for all seasons in one way or another.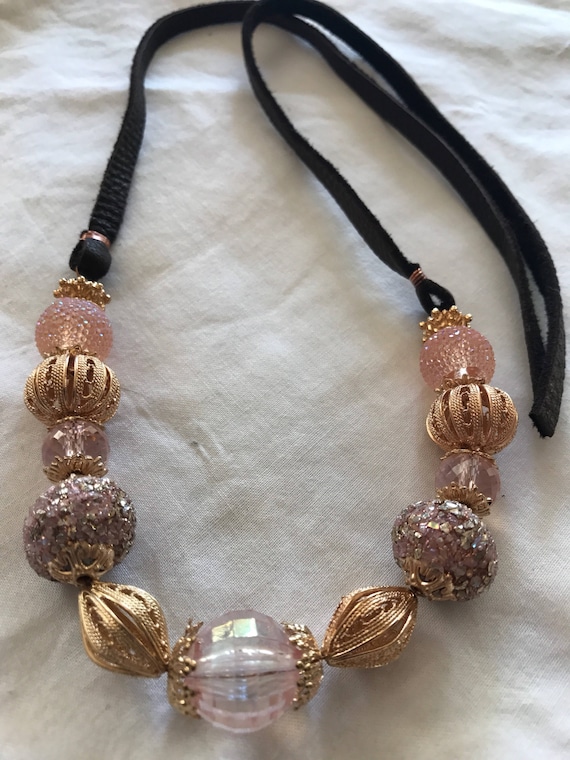 Rose Gold Leather Necklace
Rose gold was a color trend for 2016, but I just love how this color fits into the season. I also love how well it works with the Pantone fall jewelry trends for 2017; the color fits right in line with ballet slipper.
The Rose Gold Leather Necklace worked up almost too easy. The strand was beautifully complemented by the dark brown leather strap to give the wearer the freedom to tie this at whatever length they want. I also love the way the differently textured beads interact with one another, and the gold filigree beads that are paired with it.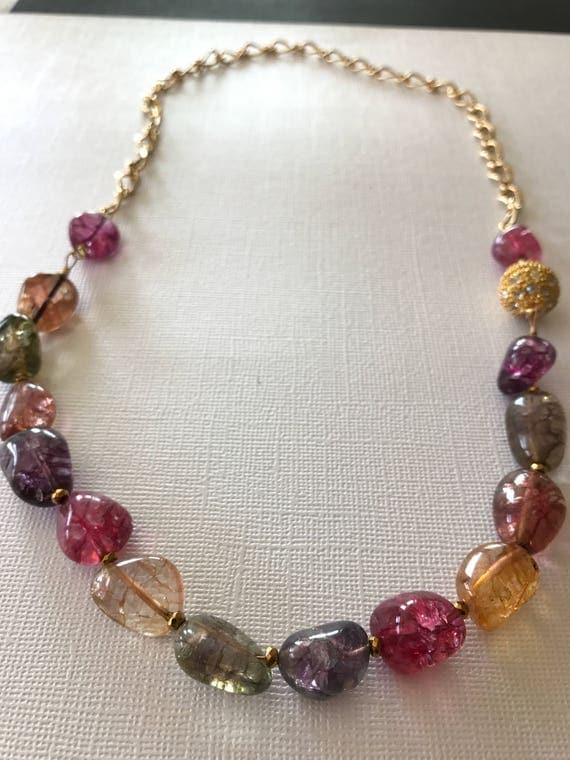 Cracked Quartz Necklace
This bead strand was a buy at a bead show several years. When I initially started putting the design together I was inspired to add the color gold. But that was as far as I got for a solid three years. These beads sat with a gold chain at the back of my bench and taught me patience is important as a designer and with the right amount of time all will reveal itself.
Finally this year I realized that putting these beads on display with a gold chain at the back was the right move. Why? The gemstones themselves are on display this way, allowing the eye to truly appreciate the texture of each bead and the natural color combination. The Cracked Quartz Necklace was finally made.
Blue Fall Filigree Necklace
Brass isn't a color that I have worked with until this fall season when I dug out some long forgotten filigree pendants I picked up at a bead show. I couldn't help but grab these and put them on my bench to see what would pair well.
Blue is the only color that wasn't earth-toned that I was drawn to in my fall-color spree, and it seemed to be the perfect match for the brass filigree pendant. For my designer eye, positioning the pendant so it was asymmetrical with an uneven number of beads on each side and some of the brass chain showing felt like the right artistic move to create the Blue Fall Filigree Necklace, a fall necklace that I find makes a true statement.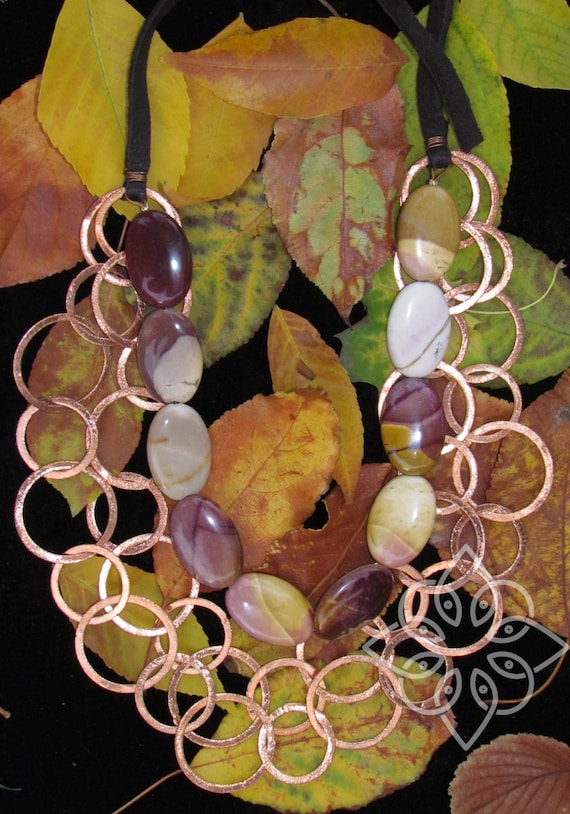 Mookaite Sunrise
I fell in love with Mookaite Jasper when I attended my first Tucson Gem Show back in 2014. At that point, I hadn't seen anything with quite the same beautiful mix of such bold colors in a natural stone. I was immediately hypnotized and entranced by the beauty.
Later that year, I had the opportunity to design a necklace for Jewelry Stringing magazine and found that the beads paired well with a light-weight copper chain and leather cord. I love the Mookaite Sunrise necklace and how it pairs so nicely together. It is truly a beautiful accent for any look and intended for someone who loves the rich earthy tones of fall year-round.